The Potentially Sad Fate of Miles Morales
I love Miles Morales. I was as skeptical as the next guy when Marvel announced they were going to kill Ultimate Peter Parker and replace him with someone completely new, but Brian MIchael Bendis has done a fantastic job in building Miles from the ground up and creating a new, modern take on the classic Spider-Man mythos. The man beneath the mask may have changed, but Bendis seized upon the very essence of being Spider-Man and infused it into young Miles Morales. This is the timeless story of a young man forced to contend with power, responsibility and web fluid, and all of the drama that brings into his life.
So what the heck is going to happen to Miles when the Ultimate Universe gets eaten by Galactus!?
Marvel revealed in their November solicitations that the Ultimate Universe will be undergoing a Cataclysm, in which Galactus from the normal Marvel Universe crosses the interdimensional boundary and just starts wrecking stuff up. All of the heroes of the Ultimate Universe will band together to stop the World-Devourer, but it's not looking good. Many on the web are speculating that this will be the end of the Ultimate Universe. It has long outlived its usefulness, and its best days are definitely behind it.
If this is indeed the case, that means the fates of Miles Morales and the very excellent Ultimate Comics: All-New Spider-Man are in doubt. Except for this little blurb in Cataclysm: The Ultimates Last Stand #2:
"Miles Morales is headed to the Marvel Universe"
A lot of people online are already speculating that this single line is definitive proof that Miles is going to permanently transition from the Ultimate Universe to the regular Marvel Universe. They seem convinced. But I am not.
I don't think Miles will be going on a one-way trip. And I definitely don't want him to permanently move to the regular Marvel Universe. It would destroy everything Bendis has built so far around the character. It would take away what I love most about Miles Morales and his heroic journey.
Join me after the jump for the full discussion.
What's this? Another comic book geek whining on the Internet about how he doesn't like change? Yeah, I guess…maybe that's what this is. But I don't see it like that. I'm in favor of change in comic books as long as it benefits the character and the story. And I just don't think this kind of change will do anything but hamper and demote Miles Morales. He's a great character starring in a great comic, and upsetting the status quo in such an insane and ludicrous way robs everyone of a fulfilling narrative.
Let's get everybody up to speed as quickly as I can.
Back around the year 2000, Marvel decided to launch a side project called Ultimate Comics to retell some of the classic origins and stories of their most popular characters. The idea was to do it in a more modern, accessible format in order to attract new readers. The regular Marvel Universe was still around, but it was bogged down with decades worth of continuity and poor management decisions. Ultimate Comics was all about streamlining, and it was a huge success.
Flash forward 13 years later, and the tables have turned. Now the Ultimate Comics are a confusing mess of continuity, and the regular Marvel Universe is full of well-written, streamlined and accessible comics. And sales are not that great for Ultimate Comics, so it kind of makes sense for Marvel to cancel the books and move on. I don't know if that's what Cataclysm is actually about. This is all just speculation. And Marvel hasn't said a word about cancellation. But it could happen.
The point of this article is to discuss what Marvel will do with Miles Morales, the new Ultimate Spider-Man, if they do indeed cancel the Ultimate Universe.
A few years ago, Marvel decided to kill off Ultimate Peter Parker and replace him with Miles in an effort to promote diversity. Miles is half-black/half-Latino, and he is supposed to be a fresh face to carry on Spider-Man's legacy. I wasn't happy when Marvel decided to kill off Ultimate Peter because I was really enjoying what the writer, Brian Michael Bendis, was doing with the character, and the decision seemed to be a corporate one. Bendis' corporate overlords told him they wanted to go in a different direction with Spider-Man, and Bendis complied, because that's his job.
But my concerns proved to be unnecessary because the story of Miles Morales has been great! Like I said earlier, Bendis really understands Spider-Man, and he's been telling a great story about Miles growing into the heroic role and taking over for the slain Peter Parker. I've reviewed each issue so far on my blog, and Miles' story just keeps getting better. He's got his own friends, family, villains and drama, and his story is still fundamentally that of Spider-Man. Miles may have started as a PR stunt, but the story has been fantastic.
So what's going to happen to Miles in the wake of Cataclysm? If Marvel cancels the Ultimate Comics, what will they do with this diverse character that they put so much work and effort into?
First off, let's tackle that line about "Miles is headed to the Marvel Universe". Like I said, everybody on the web seems to think this is going to be permanent, but I'm not buying it. For one thing, Miles has already been to the Marvel Universe once before during the Spider-Men crossover last year, when regular Peter Parker traveled to the Ultimate Universe in a crossover. Miles spent a few hours in the regular Marvel Universe before Peter saved him, and it was no big deal.
For another thing, Cataclysm is a story about a dimensional rift between the two universes, one in which Galactus has already crossed over. So it only makes sense that an Ultimate character would cross back, so why not Spider-Man?  Maybe he crosses over to look for help?
And finally: Miles permanently jumping to the regular Marvel Universe is kind of a big deal, and Marvel's PR department is usually on top of things like that. If this was indeed a permanent change, Marvel would have come out ahead of the solicitation and announced it themselves. They wouldn't just leave a single line like that in the solicits and leave it up to idiot bloggers like me to make up the news for them. Marvel is being mum about just what's going to happen to the Ultimate Universe in the wake of Cataclysm, and that usually means they have a good idea, they're just not ready to tell us yet.
So I think it's just too early to assume that Miles is joining the regular Marvel Universe on a permanent basis.
In a perfect world, I want Marvel to cancel the rest of the Ultimate Comics and just continue Ultimate Spider-Man all on its own. Give the reigns of the entire universe to Brian Michael Bendis and let him just keep writing MIles' story, while maintaining the universe around him. Miles' story is a very good story, and I want it to continue in the manner that it is. Marvel put a lot of publicity into Miles Morales, and even if sales are down, I want them to just take the hit and keep putting out the comic.
But like I said, that's the perfect world, and I never get what I want.
So why am I against Miles jumping to the regular Marvel Universe? I think it would be a bad idea for the character because it violates my second rule of writing: Keep It Simple, Stupid.
Right now, the story of Miles Morales is very simple and relatable. He's a teenager struggling to balance the power and responsibility of being Spider-Man with trying to live a normal life. He's dealing with best friends, girlfriends, grades, teachers, family and super-villains. This is classic Spider-Man stuff. Heck, it's classic fiction in general.
But all of that goes right out the window if you suddenly have Miles going to live in an alternate dimension!
If that happens, Miles' story is no longer about a relatable kid trying to be a superhero. Suddenly it's about a strange, mysterious kid living IN AN ALTERNATE DIMENSION! All of the supporting characters and context that make Miles' story interesting is gone. And a character is nothing without the proper context. Jumping alternate dimensions is a context that barely works anymore, even in comics. If you have to start talking about alternate dimensions when explaining who a character is, you're going to lose your audience. That's why creators struggle to make their comic books more mainstream, because of things like alternate dimensions. Imagine trying to describe Miles to a new reader, "Well he's kind of like Spider-Man, but he's from an alternate dimension, and now he's jumped over into Spider-Man's dimension…"
Not only that, but Miles would have to leave behind everyone in his life. Gone is the companionship of his best friend Ganke. Gone is the complex relationship he has with his father. Gone is the stress of trying to succeed in his advanced preparatory school. Gone are the relationships he's building with Mary Jane, Gwen Stacy and Aunt May. All of the context that makes MIles' story compelling would be gone.
I am sure there would be some fans who would love to read about Miles' adventures in an alternate reality, but not me. I've never been very interested in stories where Spider-Man leaves the street level and goes on big, cosmic adventures. That's just a personal preference.
There's also the problem of Miles' place in the regular Marvel Universe when that world already has a Spider-Man.
Right now, in the comics, regular Peter Parker is dead, and his arch-enemy, Doctor Octopus, is masquerading as the Superior Spider-Man. I've seen some people suggest that Miles should be the one to defeat Doctor Octopus and then take over as the only Spider-Man in the regular Marvel Universe. This is one option, but we all know it won't last long.
Regular Peter Parker might be dead now, but he's going to come back. That's just how comics work. Especially since he's got a big budget Hollywood sequel coming out next year.
So if Miles indeed jumps to the regular Marvel Universe, what happens to him when the regular Peter Parker returns? Miles gets demoted, that's what happens. Marvel may allow two different people running around calling themselves 'Spider-Man', but how long before Miles is shuffled off to the side as the other Spider-Man, or worse yet, the black Spider-Man? Miles has earned the right to be the only Spider-Man, but with Peter Parker alive and kicking, Miles is going to be demoted. And giving him another name like Spider-Hero or Spider-Kid or Spider-Dude or The Arachna-Kid would be even more embarrassing.
Miles Morales is Spider-Man. Anything less would be demeaning.
DC Comics is going through a similar crisis over in their Green Lantern titles. Last year, writer Geoff Johns created a new Arabic Green Lantern named Simon Baz, and he was great! Simon's origin was compelling, and he has his own supporting cast and plotlines. He even took over the flaghship comic Green Lantern for several issues. But what happened? White, heroic Hal Jordan returned and took back his comic. Now Simon has been demoted to a minor supporting character in the pages of Justice League of America.
That is the fate of Miles Morales if he permanently moves to the Marvel Universe. That's why I don't want it to happen. Miles will be demoted, if not in name, then at least in importance. He'll lose all of the compelling supporting characters and plotlines he's developed in his own comic, and he'll be lucky if he gets to be a supporting playing in the New Warriors. He'll be that weird guy who's all hung up over the fact that all of his friends and family were killed in an interdimensional war. Nobody will want to hang out with him.
And nobody will want to read about him.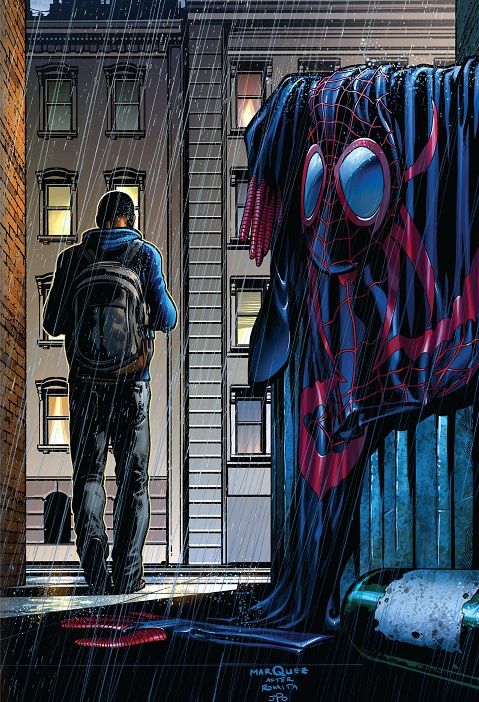 ————————–